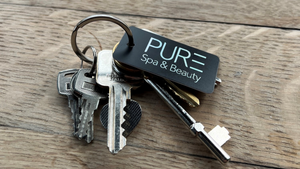 Discover the PURE loyalty scheme.
Introducing: the PURE Treats Card.
We want to give back to our regulars here at PURE Spa & Beauty. You are the loyal clients who always have our backs. You know your go-to therapist, you bond over nails with us, or maybe you've been coming to us for years! No matter the case, we're grateful to all of our loyal clients, and wanted to show you how appreciated you are. With our curated loyalty scheme, visiting PURE Spa & Beauty rewards you each and every time.
Where do I get my PURE Treats Card?
Want to join our loyalty scheme? It's easy. Simply book an appointment to activate your membership!
When you first join us as a client, we'll give you your PURE Treats Card. It's the little black dress of loyalty cards: a small, key-ring friendly card that's your ticket to free treatments!
So how does it work?
You earn 4 points for every £ you spend on treatments + Double points on your next treatment when you re-book + 100 points when you sign up for our email newsletter!
Book in for a treatment today to activate your membership and start earning those points!
Book a Treatment Now
How and when can I redeem my points?
We keep track of what you've earned and will periodically offer you treats that can 'spice up' your spa and beauty life. You don't have to say 'yes' straight away — you can use it as an add-on to your current booking or reserve your place another time!
Points can be redeemed in person at your favourite Spa reception or by emailing Customer Services.
Can points be used to discount treatments?
Points cannot be used to gain a partial discount on our treatments. Our receptionists will prompt you when you have enough for a free treatment!
NB You can only redeem one 'free' treatment per visit (i.e. if you have 700 points, you cannot book in for a PURE manicure and PURE massage at the same time for free).
*Subject to change.