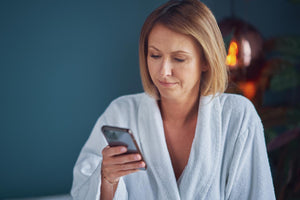 How would it be to walk in, finish your service and simply walkout?
With our app you can:
Book Online 24/7
Avoid waiting in phone queues. Appointments can be booked quickly and seamlessly, any time of the day.
Auto Pay
Don't wait in checkout lines. Payment will be taken automatically and you can leave feedback on the go.
Self Check In
Check in on your mobile app as you arrive and take a seat. Your therapist will be notified that you are here. Enable PURE Go to access this.
PURE Go Set-up
If you already have the app, it's simple to set-up. Just login or sign up, and go to 'My Account' to enable 'Self-Check-in' and 'Auto-Pay' or click 'Enable' Go on the Booking Confirmation page.
A touchless experience
Our modern uber-like, touchless experience is not just good-to-have. It's a must-have. It's fast, less stressful and more convenient.