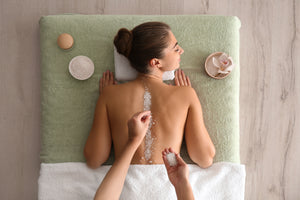 Join the fastest growing Spa in the UK
Fancy joining the UK's fastest growing Spa and Wellness brand?
PURE Spa & Beauty is growing fast.
We've been busy opening up new spas across the UK—from Aberdeen to Brighton and everywhere in between—and there are more on the way. We're on the lookout for people who are passionate about delivering unforgettable beauty and wellness experiences, and first class client care.
Awarded 'Employer of the Year' in 2019 by the Professional Beauty Awards, we pride ourselves in offering luxury spa therapies and beauty treatments in one, convenient place for busy professionals.
Employee Benefits
Every team member has a significant and valuable role to play in the success of PURE. That success is shared with our teams through our comprehensive suite of personal and professional benefits:
Enjoy 29 days annual leave with extra holidays given after 5/10 years
Upskill & grow with regular in-house & external training and courses
Save on your clothing budget! We provide therapists uniforms
Balance personal and family commitments with flexible working hours
Get a £250 bonus with our Employee Referral Scheme
Know your future is taken care of with our Pension Enrolment Scheme
Earn up to 10% more with retail commission & services bonus
We know life can be costly, so we offer the Real Living Wage
Enjoy PAYE-free tips with our Easy Tip app, monthly incentives & sales commission
It's your turn to be treated like a VIP with a free monthly spa treatment
Stay healthy and happy with free use of spa & gym facilities in available locations
Treat your loved ones to a 30% VIP friends and family discount
Celebrate in style with a paid birthday off after one year of service
Enjoy some down time with our paid team social activities
Save money on that weekend away; PURE employees get preferential rates with our hotel partners
Take the spa home with you after a long day with 20% off PURE vegan Skincare
Take care of your mental health with free confidential counselling
Read Our Job Descriptions
Want to know more?
Email jobs@purespauk.com for any questions you may have.
If you are interested in working for us please provide your First Name, Last Name, Contact Details, Location and any experience you may have in the spa & beauty industry. No experience? That's ok! We still want to hear from you. *Must be able to work in the UK.
If you currently cannot work in the UK please email hr@purespauk.com to find out about our sponsorship opportunities.